All enterprises sweat over the home page. They should: Jakob Nielsen says your home page is the most precious real estate on earth.
Universities are no different than Fortune 500 companies. They worry endlessly about links, labels, images, and the entire "snap" of the home page.
So what do you do if you're a large university in South Florida, and a tropical storm -- or a hurricane -- is headed your way? Consider the home page of Florida Atlantic University, as cached by Google: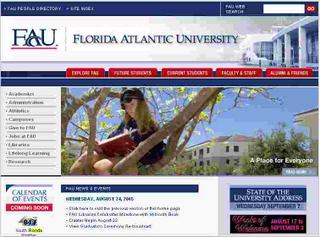 Now suppose you are an administrator - perhaps the president - of Florida Atlantic University.
There's a serious storm heading your way: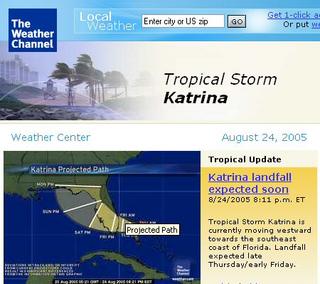 There's a pretty good chance a really serious storm will hit your campus. It might wipe out buildings. Hell, it might kill people.
So what do you do? Hold classes as usual? Probably not. How would you explain your choice to the parent of a dead student who watches those storm tracking maps on the Weather Channel? So you shut down classes until the storm passes.
Now, how do you communicate this? Obviously you issue press releases. You talk to the media. But how do you use the university's Web site to communicate the closures, as well as links to other campus resources, and to trusted national sites?
FAU chose to repurpose the entire university home page to handle the event: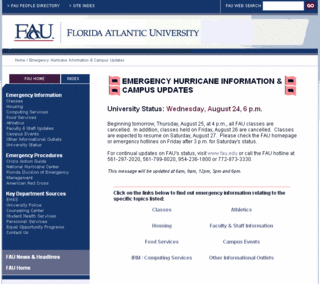 Click to see full-size screen shot.
By choosing to hijack the entire architecture of the home page, the university decided that it was better to serve the information needs of current student, faculty, and staff, to the exclusion of prospective students, alumni, friends, and the public.
That
might
be the right decision, given the circumstances. A storm is on its way, and it may wipe out a large chunk of the campus. We have to serve the people who belong to the university community right now. Makes sense.
Or it might be the wrong decision. Maybe they should offer a prominent link to a page that offers storm information and advice for the current community, leveraging campus and other sources. Leave the university home page (mostly) intact, and offer a very visible link to resources for the crisis.
I honestly don't know the right answer.
But I do know that before, during, and after an emergency, people expect the enterprise home page to deliver current, timely, and useful information.