When media around the world shine their collective spotlight on you, should their search engines know more about your story than your own search engine knows? That's exactly what's happening at the University of Colorado at Boulder.
CU is suffering through a public relations nightmare. Amidst stories of booze and strippers for high school recruits, CU head football coach Gary Barnett, asked about rape allegations by their former kicker Katie Hnida, responded that she didn't command other players' respect because she wasn't a very good kicker.
That stunning display of insensitivity will likely cost him his job. On February 19, the university suspended Barnett; on the 20th, CU named an interim coach.
I'm not equipped to advise Colorado on how to manage their monumental public relations problem, but this is a case study in why every search engine should offer a "best bets" service.
Go to news.google.com and search for "barnett" and you'll see these results: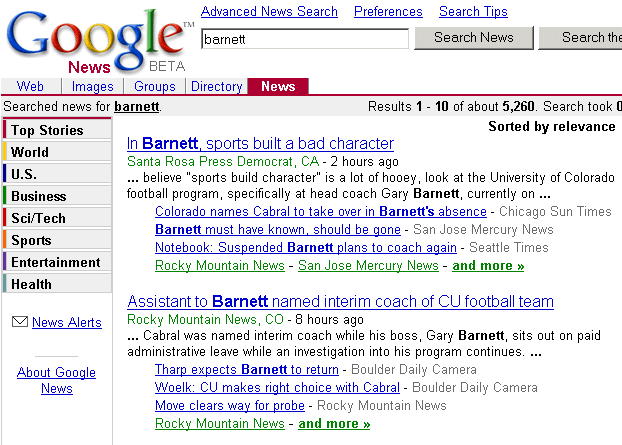 Now go to Colorado's own home page and do the same search. You'll see this: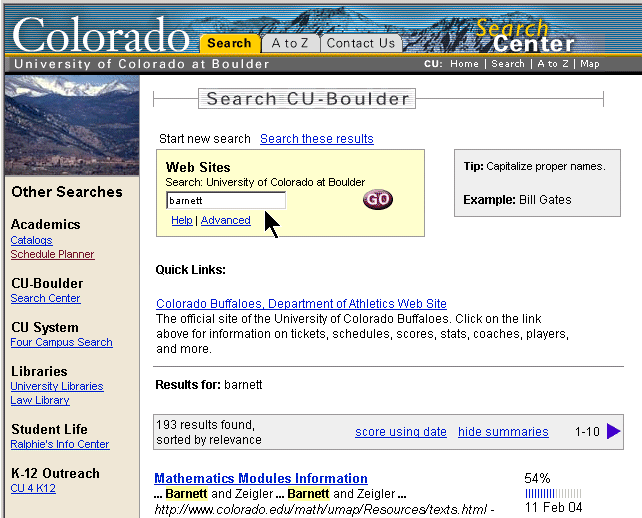 Google News covers thousands of news sources worldwide. Out of hundreds of thousands of current news articles, just the word Barnett brings dozens of links to the relevant story to the top of Google's hit list. But Colorado's own search engine hasn't caught up to the story yet!
Even the search engines of individual news sources are ahead of Colorado's search engine. For instance, the BBC's news index also puts the relevant story at the top of the list.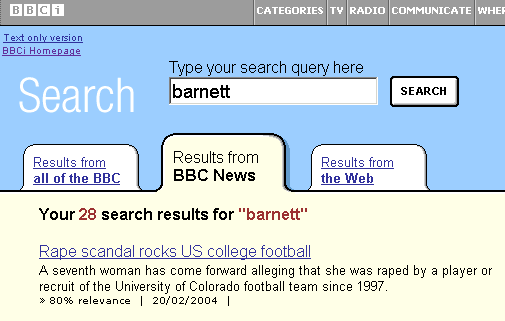 You can bet thousands of people are hustling to the CU home page and searching for "barnett" and "football" and all sorts of terms related to the story. CU media relations folks are doing all they can to put the best face on this story. Sure, they can put
links
on the home page, but experience and Jakob Nielsen teach us that a large percentage of people just leap to the search box. They find nothing relevant.
There's a simple way to fix this: create a "best bets" feature for your search engine. When a story of massive interest breaks, get the PR team and the search team to coordinate a response. As each new press release comes out, add search terms to your best bets index. And monitor the search logs throughout the crisis to see what search terms folks are typing that you haven't thought of.
Ironically, it appears that Colorado's search engine
has
a Best Bets service, under the label Quick Links. All they need to do is make use of it to manage breaking news, not just static content.
You can't stay ahead of your own breaking news, but your search engine
can
keep up with it.