Scott Pohl of WKAR-FM (NPR in East Lansing) and I discussed Skype, the VOIP (Voice over IP) startup from the folks who brought you Kazaa. Skype users can talk to each other for free over the Internet, or a Skype user can use Skypeout to dial out on the global switched telephone network to reach virtually any telephone on Earth. Skype-to-Skype is free; Skypeout is cheap -- for instance, 1.7 Euro cents a minute to call the U.S.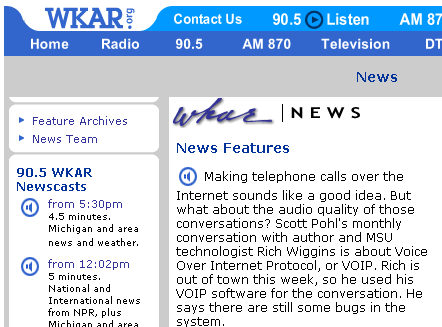 This was a fun interview, becuase our topic was VOIP long distance, and our means of communication was VOIP long distance.
The recorded interview gives you a pretty good idea of the quality of voice over IP a la Skypeout.
Now that AT&T is pronouncing the acronym as "voyp" in national ads, I guess that means it's now in the lexicon.

http://red-cedar.wkar.msu.edu:8080/ramgen/Archive/features/041001_richoct04.rm