The quest begins. My friend Dean Shooltz, brilliant scientist and inveterate collector of equipment and vehicles, is in pursuit of a scientific instrument that once was worth many thousands of dollars, and now is for sale for a few hundred dollars.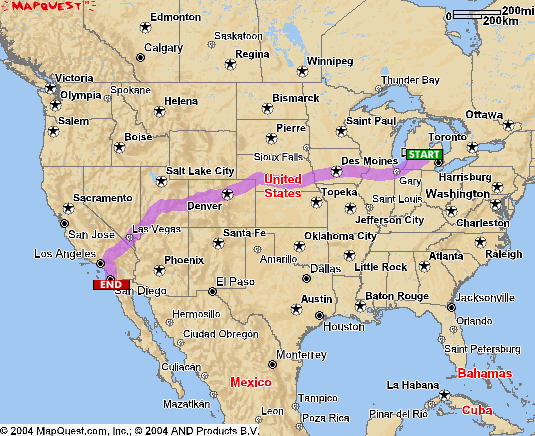 Someone in San Diego is selling this thingamabob, which means Dean has to get from East Lansing to the southernmost city in California and back. Yes, he could have the whatchamahoozit shipped, but Dean figures that'd be expensive, and if he goes in person, he can disassemble the gizmo and fit it in a car.
So Dean enlisted the help of friends Mike and Colleen.
They're going to drive non-stop across the country, pick up and pack the gadget, maybe do some extra sight-seeing, and then drive back non-stop.
Since they've got three drivers, I challenged them to blog the whole trip in real time. I offered my Sony VAIO Picturebook laptop with my Verizon Wireless / Sierra Wireless 1xRTT card, and an AC inverter that plugs into a cigarette lighter outlet. This will give Mike, Dean, and Colleen mobile Internet access just about everywhere they go. The Verizon service map shows lots more gaps out West, but the major roads and cities are covered. So they should be able to blog at will pretty much wherever they are.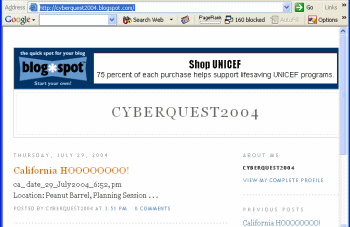 The Picturebook has a built-in camera so they can shoot low-res shots as they travel. Dean has a Sony digital still camera, so they can take a MemoryStick and insert it in the VAIO to upload photos.
We met tonight at the Peanut Barrel, an East Lansing institution, where I showed them the ins and outs of the Picturebook. Colleen took the little laptop and had a new Blogger blog up in minutes.
Parting with the little Picturebook was not easy. I'm now using an IBM Thinkpad X40, which is much more powerful than the little laptop, and I'm now using Wi-Fi (in lieu of the Verizon service) at my day job, at home, and elsewhere for most of my Internet access. I made it
very clear
to Dean et al that I do want the Picturebook back at the end of the trip.



Read all about it, and watch the photos, at
http://cyberquest2004.blogspot.com/