So I'm sitting here checking Google News while getting ready to watch coverage of the Democratic National Convention on PBS (and C-Span, when the PBS punditry pisses me off).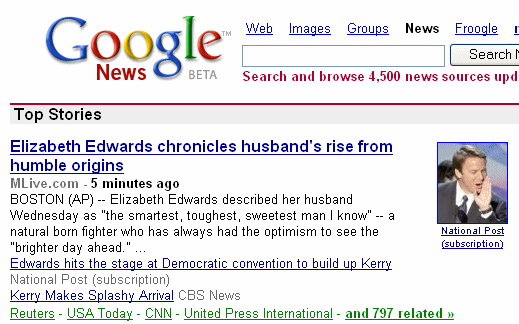 And right there is coverage of what John Edwards said in his speech to the convention. The National Post, a conservative newspaper in Canada, is reporting on its Web site what Edwards said to the delegates.
There's only one problem: John Edwards has not given that speech yet.
This is a game called "embargoed news": the text of the speech has already been given to the media, so that those with early deadlines can report the news for tomorrow's papers (or other media) even though the words haven't been uttered. The reporters get the words before the actual speech, on the condition that they don't report the contents until the actual speech is over.
I'm writing this just after 8:00 PM Eastern time. The National Post has leapt into the future by a couple of hours. It will be interesting to see if the actual speech matches what they've quoted from the advance copy.