News headlines indicate that Windows XP Service Pack 2 will be delayed. This is really important stuff for universities,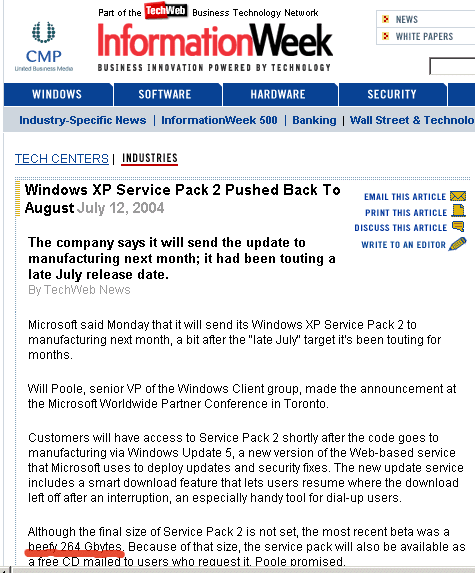 because SP2 (finally!) closes some very serious holes in Windows XP. If Microsoft doesn't ship SP2 to manufacturers until August, it's too late for back-to-school computers to get these desperately-needed fixes.
Quoth Information Week:

Although the final size of Service Pack 2 is not set, the most recent beta was a beefy 264 Gbytes. Because of that size, the service pack will also be available as a free CD mailed to users who request it, Poole promised.
OK, it's only a one character goof (perhaps) but it's also a factor of 1000. Who the hell proofs these pieces? Do they understand that a CD holds only 650 megabytes, and therefore could never possibly hold 264G? Do they understand that not a single new computer ships with a 264G hard drive -- and therefore couldn't hold the purported updates?
Does the tech press even
think
?