This month we've been to the local performing arts venue, Wharton Center, twice -- once for Ravi and Annoushka Shankar, and last night for Lyle Lovett and three other excellent singer/songwriters.
I wanted to check the seating chart for some other concerts, and, being lazy, went to Google and searched for:
wharton center seating
And I found this chart by a third party ticket broker: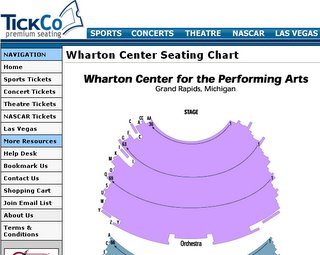 Having been at Wharton Center last night, I think the chart is accurate. But maybe not: it shows Wharton Center as being in Grand Rapids, Michigan. Famously, Michigan State University is considering adding a new medical school in Grand Rapids, but the rumor that the Wharton Center will move 60 miles northwest from East Lansing is a new one.
http://www.tickco.com/sc/1-1871/
But there's more: on another page, we move the Wharton Center from Grand Rapids, Michigan, to Grand Forks, North Dakota (look at the blue title bar at the top):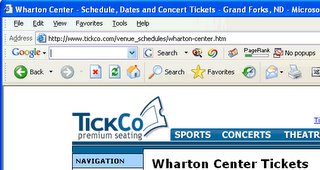 Elsewhere, TickCo correctly shows Wharton Center in East Lansing. Memo to TickCo: this is why we use database-driven sites. If your Web site shows three locations for one venue, you need to embrace database management.