Saper Galleries
in East Lansing is running an exhibit of works by Picasso. Roy Saper, the owner, explained to a few visitors a bit about Picasso's art, the influence of women on his life, and the market for his works. As Roy described Cubism he gave the example of one etching that depicted both the profile and the straight-ahead view of a woman's face.
I noticed that Roy's reflection in the glass echoed the point he was making: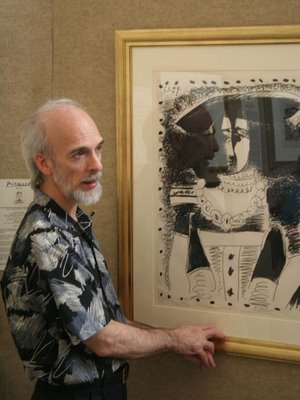 Click on the image to see it full-size
The lithograph is entitled
"Noble Dame" and Picasso made it in 1959
.
Roy says the exhibit runs through July 2, but his gallery and two partner galleries will offer items not yet sold from this collection for some time to come.