Many of us have more than a passing interest in the U.S. Senate primary race in Connecticut. Many of us feel that Senator Lieberman, an honorable public servant, tossed his credentials as a Democrat when he filed to run as an independent if he lost in the primary.
So many of us are watching the Connecticut race carefully.
And the official elections Web site is melting down, a sad gelatinous goo of Crystal Reports gone bad. Most embarrassing of all, it appears that the Connecticut Secretary of State failed to acquire a license for the reporting software: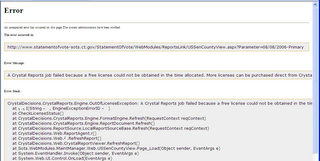 Click to see full-size screen shot
Please, pay no attention to the man behind the curtain.