Stamps.com
has come up with a very clever new idea. They'll make postage stamps for you featuring whatever image you want. Imagine:
-- The photo on the stamp you put on your wedding invitation isn't wedding cake models -- it's
you
, the happy couple.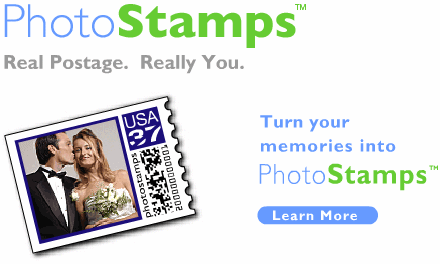 -- Your holiday letter depicts your perfect family, whose perfect year is described in infinite detail in the annual letter within.
-- You send out various mailings whose envelopes feature stamps showing off your lovely dog, cat, baby, vacation photos, the cottage up north your friends covet, etc.
The Photo stamp is really just the electronically coded postage stamp that
Stamps.com
provides under license from the USPS, with an ancillary photo, um, glued alongside it. The cost is steep: 85 cents per stamp for a sheet of twenty 37 cent stamps, not including $2.99 shipping. I bet it'll be a huge hit nonetheless. Wedding photographers will sell you postage stamps for your thank-you notes that feature you and your smiling spouse. Not a bad way for a dot com to reinvent itself.
If the folks at Stamps.com were
really
clever, they'd
create a marketplace
and let you choose popular photos and graphics from an image bank. Sure, you could upload your own photos, but you could also choose from the photos offered by professional photographers and freelancers. Stamps.com could let people and organizations sell images for stamps and collect royalties: a marketplace for personalized stamps. Institutions -- recording artists, politicians, cities, universities, car companies, resorts --
anyone
could sell image-branded stamps.
http://photo.stamps.com
The original business model for Stamps.com was simple: print your own postage stamps on your own laser printer -- Pitney-Bowes for the masses, postage stamps you print as you need them -- a very clever concept for the late 90s. But was a clever idea that never caught on. I'm betting that personalized postage stamps will take off in a big way. You'll order the stamps over the Web, you'll pay twice what they're worth, and you won't print them in your basement; you'll receive them ... in the mail. Ahh, irony,
Oh, to be perfectly accurate, I shouldn't say you can have ANY image on your stamp; there's a
long list of terms and conditions
.