One of the best places to eat in Key West is the Banana Cafe. It's a small French bistro near the end of Duval, close to the Southernmost Point. The cafe features a small dining room with a large piano as well as open-air seating. Here's a photo I took in 2004:
Click to see full-size image
If you search Google for this fine place, one of the top links is to
http://www.banana-cafe.com
.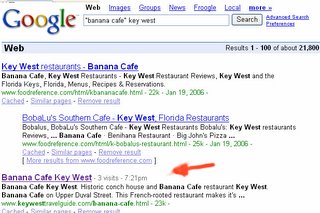 Click to see full-size image
But if you follow that link you get this message:
Banana Cafe Website has been shutdown due to late payment.
Payment was due Dec. 14th 2002

Hmmm, it appears perhaps that some local Web publishing entrepreneur must have made a deal to give the Banana Cafe a Web site, and things didn't work out after the Banana site was online. You end up redirected to
www.islandtaste.com
which turns out to be a lame Key West directory, listing only a handful of restaurants.
When you eat at the Banana Cafe, a cat may lazily wander up to see if you might offer a morsel or two. At the next table sits a local with his dog and his New York Times. You observe someone excuse herself to go across the street to tend her gallery, which she left empty for lunch. Your crepes may arrive a little more slowly than you'd like, but they'll be damn good when they get there.
That's Key West: a laid-back kind of town. So banana-cafe.com continues to tell the public that the restaurant didn't pay their Web hosting bill in 2002, and the real Banana Cafe continues to do a fine business. It wouldn't surprise me if the aggrieved Web entrepreneur eats there regularly.
See
another photo of the Banana Cafe
or
peruse their menu
.