If you received this e-mail from Consumer Reports, would you believe it was real?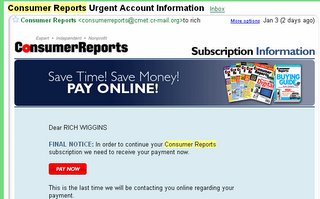 Click for full-size image.
I was especially concerned when I looked at the From address:
consumerreports@cmet.cr-mail.org
And check out the Subject line:
Consumer Reports Urgent Account Information

Hmmm. All the hallmarks of a phishing attack:
Sent from an address different than you're used to for the sender.

Has the word "Urgent" in the Subject line.

Urges you to conduct a business transaction online -- Pay Now!



And when I checked the Whois database, I found the suspicious domain to be registered to Doubleclick.net.
So I have to confess: I still don't know if this is for real, or if it is phishing.