Google periodically updates its logo with a cute graphical reference to a holiday or event. Today's Google logo pays homage to Alfred Hitchcock (and one of his movies, "The Birds").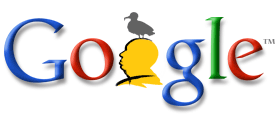 Not knowing the significance of August 13 and Hitchcock, I went to the Internet Movie Database for the answer. Yup, Hitch was born this day. IMDB offers
other events in movie history that occurred on August 13
.
My wife Judy, far more intuitive than I, figured Google would give a clue. The logo is a link to a Google search for "Alfred Hitchcock" which would eventually yield the August 13 answer.
It's fun to look at

other Google holiday logos
.
Ever wonder who the artist is that makes these cute, minimalist logos for Google? Here's the scoop:
about Google's logo artist
.