Today Robert Reich, the first Secretary of Labor in the Clinton Administration, spoke at Michigan State University. First he lectured at the College of Law, then spoke at a "rally" at Beaumont Tower. Unfortunately, the organizers of the second talk, MSU Democrats, did a poor job of rallying attendance; only a couple of dozen folks were at Beaumont Tower to meet this distinguished visitor.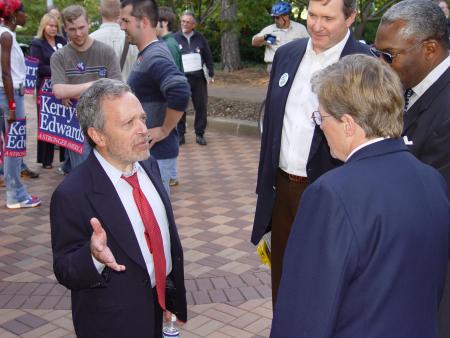 I was the first to shake hands with Reich when he arrived. Reich puts people at their ease instantly. We chatted for a bit and then Lou Anna Simon, MSU's next president, dropped by to say hello to him. Her handler introduced her as "president designate" and Reich joked "Why would you want to be the president of a university?" I overheard their conversation as she invited him to return to East Lansing as part of MSU's esquicentennial. Reich said it'd be impossible not to return to such a beautiful campus. It
was
a beautiful fall day, but Dr. Simon replied she couldn't guarantee good weather in Michigan.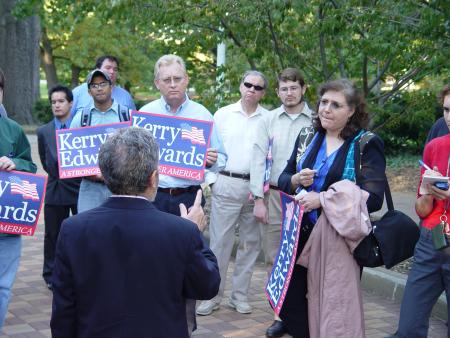 Dr. Reich spoke passionately to the small gathering: he said this year's election is the most important in living memory, and the George W. Bush is the worst president since Millard Fillmore -- and that that was unfair to Fillmore. I caught some of his words on video; the camera was my Sony DSC-F717, which is a great still camera, but a pretty weak video cam. His words come through, nonetheless; listen to
some of Reich's remarks on the 2004 Presidential election
.
One observation stood out:
The only thing constraining this Administration in the first four years -- the only thing limiting them at all -- has been the knowledge that they had to seek re-election. And if they get a second term, they are going to be unconstrained. And if you think things are bad now, you ain't seen nothin' yet.
Before Reich arrived, I called my friend Mark Grebner from the scene, describing how small the crowd was. Mark said that maybe I should enter a Wiki entry under "Bad Advance." The funniest part was when a carilloneur arrived to play her scheduled evening concert on the bells of Beaumont Tower. She was kind enough not to play the carillon while Reich spoke.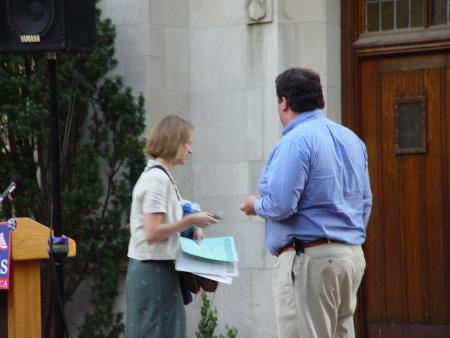 More of my photos of Reich's visit are available at:
http://www.imagestation.com/album/pictures.html?id=3195890093
Registration is required, but it's free. Hmmm, sort of like registering to vote.