Strolling around the picturesque and bucolic town of Harbor Springs, Michigan, I spy an interesting looking building.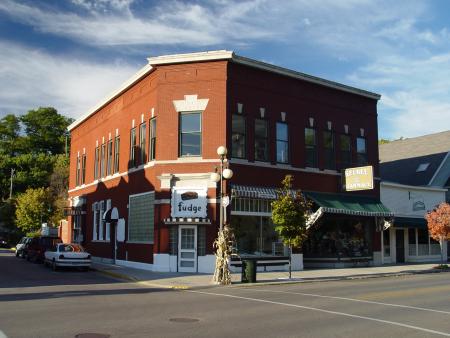 It appears to be a familiar Northern Michigan tourist trap, a fudge shop. But I notice a side entrance with a different sign: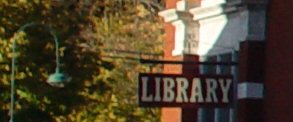 I like to check out small libraries (er, no pun intended). I'm curious: What kind of books and magazines do they carry? Do they they provide computers with Internet access? Do they offer Wi-Fi? So I climb the stairs and discover that the second floor of the building is a cute library. There's a desk across the room, with a thin older woman facing customers. She's chatting with someone who appears to be a friend of the library.
The older woman asks "Can I help you?" I reply, "No thanks, just looking." Her friend explains that this is not a public library; it's a private library that's open to the public. The staffer -- director? proprietor? -- explains that the library owns the building and therefore is supported by rent from the fudge shop.
I wander around a bit. Probably a few thousand volumes. Collection looks old. I don't see any magazines. Hmmm, looks like no computers at all, not even for a catalog. I head for the 20 drawer card catalog, and the woman fairly accuses me:

"You're looking for a computer, aren't you!?!"
"Well, yes, among other things."
Now she scolds me: "We don't have any computers. There's a cybercafe across the street." She turns to her friend and derisively proclaims "The ones that want computers never ask."
Back outside, I don't go to the cybercafe, but I do check out the building more carefully. A close look at the keystone reveals:

Hmmm, keystone indicates HSCA Library... 1908. Harbor Springs Community Association, perhaps? Now I'm curious how this private library that's open to the public came to be. Harbor Springs is a sleepy town in 2004; it must've been really sleepy in 1908.
Apropos of my treatment while inside, the only thing I can find on the Web about this library is its phone number and address. I can just hear the lady declare "We haven't needed a Web site since 1908. People know where we are. Go back to your cybercafe."