So I signed up for CBS's Internet streaming of NCAA basketball coverage. This allows you to watch a game you want to see over the Internet if your local CBS station is carrying another game of regional interest -- or if you're at work, no television at hand. (They even provide a "BOSS BUTTON" to pull up a fake spreadsheet if the boss catches you.)
While I was watching the Ohio State game against Georgetown on TV, with Georgetown ahead as the clock wound down, CBS in its infinite wisdom decided to switch to the Villanova / Arizona game. Grrrrr!
So I clicked on the OSU game in the Internet feed. What comes up on screen? This: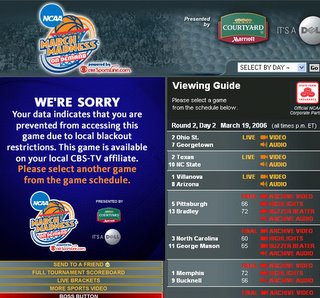 HUH?!?! They're blacking me out of a game that they're not showing in the blackout zone!
Here's what was on the TV screen, feed from local CBS affiliate in Lansing: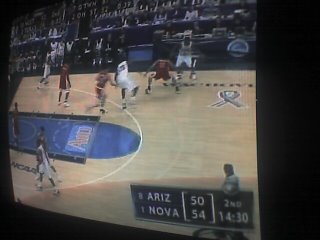 Memo to self: Next year, tell CBS you live in the U.S. Virgin Islands, where presumably they don't black out teams from north of the Mason-Dixon.