You never know where a blog posting will lead.
My posting on "How to spam Google News" was picked up by a news source called Digg.com.
A 15 year old read my blog entry, and decided to post a bogus story claiming that Google had hired him to head security for Gmail. Dutifully, Google News picked up his submission to i-Newswire. His claim was rapidly debunked, and he retracted the story and apologized to Google.
Then things really went amok: someone used the same i-Newswire-to-Google News path to post a claim that actor Will Ferrell had died in a freak paragliding accident. And again, dutifully, Google News picked up the story.
This time, the (false) story had impact. Folks began to believe that Ferrell had died, and word of this (false) tale spread on the Internet. In a 21st century echo of Mark Twain, Ferrell issued a news release affirming that he was still alive.
Owen Thomas who writes for
Business 2.0 and CNN Money picked up on all of this
:
Google News is sometimes fake
Phony press releases abound on the search engine's news website. Plus: Microsoft abandons .Net.
By
Owen Thomas
, Business 2.0 Magazine online editor
March 16, 2006: 1:43 PM EST
SAN FRANCISCO (Business 2.0 Magazine) - As a computer-generated news site, Google News doesn't have a sense of humor -- or much sense at all, bloggers have discovered. By posting made-up articles on I-Newswire, a free press-release posting service, pranksters have discovered an easy way to get just about anything in the news. It started when a blogger
noticed
that would-be presidential candidate Daniel Imperato was posting press releases announcing his opinion on events of the day and realized that I-Newswire would post just about anything. Then someone used it to
falsely report
that actor Will Ferrell had died in a "freak paragliding accident." (Bloggers soon confirmed that Ferrell was alive and working on a movie set.) Next, a teenager
claimed he had been hired
by
Google
(
Research
). After the fake news made the headlines on tech news website Digg.com, the kid
apologized
. Despite the widely reported gaffes, Google News did not remove I-Newswire stories from the website until late Wednesday morning -- after this column reported the problem.
And this morning, CNN's American Morning picked up the tale: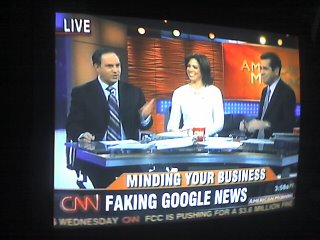 The anchors had quite a laugh over this -- ha ha, there's false information on the Internet? -- but Miles O'Brien, who previously was the science reporter for CNN and who actually has a clue or two about things, observed seriously:
Here's the dirty little secret about Google News: there's no human being in the loop. It's all done by computers. And I think that is the problem. They might want to have an editor.


More on that thought later...