Scientists in the U.S. and elsewhere knew the earthquake had hit, and could've predicted a tsunami in the Indian Ocean. But they had no network to warn nations likely to be affected. Could perfect information have saved lives?
From today's LA Times:
The quake was the largest since a magnitude 9.2 temblor struck Prince William Sound, Alaska, in 1964 and was one of the biggest ever recorded by scientists. It triggered the first tsunami in the Indian Ocean since 1883, civil engineer Costas Synolakis of USC said.
Nations along the Pacific Rim participate in a tsunami detection and warning system, set up since the 1964 earthquake sent a tsunami crashing into the Alaskan coast. But nations on the Indian Ocean have not done so.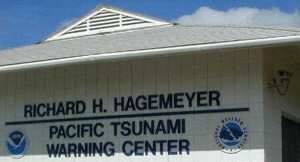 In fast, the NOAA / National Weather Service detection service in Hawaii issued this warning:
TSUNAMI BULLETIN NUMBER 001
PACIFIC TSUNAMI WARNING CENTER
0315 PM HST 25 DEC 2004
TO - CIVIL DEFENSE IN THE STATE OF HAWAII
SUBJECT - TSUNAMI INFORMATION BULLETIN
THIS BULLETIN IS FOR INFORMATION ONLY. NO ACTION REQUIRED.
AN EARTHQUAKE HAS OCCURRED WITH THESE PRELIMINARY PARAMETERS
ORIGIN TIME - 0259 PM HST 25 DEC 2004
COORDINATES - 3.4 NORTH 95.7 EAST
LOCATION - OFF W COAST OF NORTHERN SUMATERA
MAGNITUDE - 8.0 MOMENT
EVALUATION
BASED ON ALL AVAILABLE DATA A DESTRUCTIVE PACIFIC-WIDE TSUNAMI IS
NOT EXPECTED AND THERE IS NO TSUNAMI THREAT TO HAWAII. REPEAT. A
DESTRUCTIVE PACIFIC-WIDE TSUNAMI IS NOT EXPECTED AND THERE IS NO
TSUNAMI THREAT TO HAWAII.
THIS WILL BE THE ONLY BULLETIN ISSUED FOR THIS EVENT UNLESS
ADDITIONAL DATA ARE RECEIVED.
Take special note of the first line:
TSUNAMI BULLETIN NUMBER 001
If this is bulletin 001 for 2004, they made it almost to the very end of the year having issued no warnings for the Pacific. Think about that: this little office on a beach in Hawaii has staff monitoring seismographs all the time. (Today, they issued TSUNAMI BULLETIN NUMBER 003 dated 0536 AM HST 27 DEC 2004 reiterating that despite some small activity in the Pacific, Hawaii is not at risk.)
In the wake of such loss of lives and such devastation, people surely will ask why the Indian Ocean region didn't protect itself better. When people start to point fingers at the governments of affected nations, some folks will say "I told you so." From today's New York Times:
Other scientists have voiced similar concerns. At a meeting in June of the Intergovernmental Oceanographic Commission, a United Nations body, experts concluded that the "Indian Ocean has a significant threat from both local and distant tsunamis" and should have a warning network.
But even given perfect detection, did the region have adequate procedures in place to warn and evacuate people on the coasts? Was there a robust civil defense network in every coastal region. You'd have to educate everyone from locals in poor area shacks, to homeowners in luxury neighborhoods, to folks in bars and restaurants, to tourists in high rise hotels. (Can you imagine a placard on the door of your hotel room that begins "
In event of a tsunami warning, please run downstairs and head for the hills
...)" And all this for a threat that hasn't hit hard since 1883.
So
did
any warnings get through? In past disasters, ham radio operators have been instrumental in getting vital messages through. Did
anyone
hear in advance and evacuate?
Some "what if's" come to mind:
-- Some U.S. seismologists report that they tried to call authorities in countries likely to see the tsunami, but they didn't know who to call. What if they had been able to get through? How many lives might've been saved?
-- What if, instead of trying to call the authorities in those nations, the U.S. tsunami officials had called CNN? Could broadcast media have done a better job of reaching those at risk? (I think the answer is without question yes.)
-- Is there any way the Internet could've helped? The Internet is famous for spreading hoaxes rapidly. What if officials had sent the tsunami warning out to every major blogger in the affected countries and elsewhere, with links back to authoritative sites?