An interesting, and timely, piece aired on NPR this morning. Journalism professor Judy Miller noticed that Brian Williams, the new NBC Nightly News anchor, maintains a blog in which, among other things, he reports disputes in the NBC News division over what to cover each night.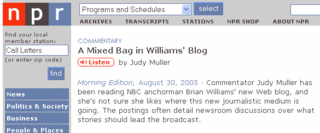 Click to see full-size screen shot
Miller muses that Williams might better spend his time reporting the news, than on reporting on the process of reporting on the news.
Well, now, Brian Williams and other reporters are in New Orleans, reporting on the devastation from Katrina. His most recent blog entry is from tonight, apologizing for the lack of recent blog entries: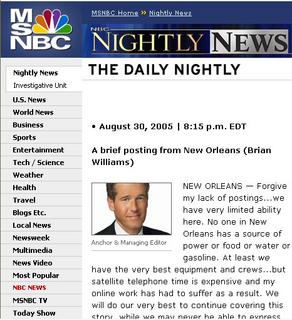 Tonight, CNN's news crawl at the bottom of the screen urges people to go to CNN.com to read reporter Miles O'Brien's "hurricane blog." Go there, and you find he hasn't posted since Monday mid-day: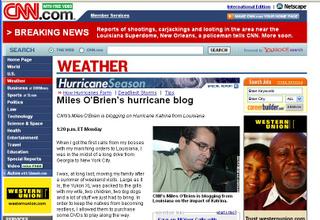 You can't blame Williams or O'Brien for failing to update their blogs from a city that has no electricity, has little or no cell phone service, and is 80% under water.
But Miller asks a trenchant question: why bother? Why not concentrate on your day job, reporting on television for millions of viewers who want to know what's happening?
Miller's commentary is at:
http://www.npr.org/templates/story/story.php?storyId=4823307